Four Teams and Four Stories: The World Cup Semifinalists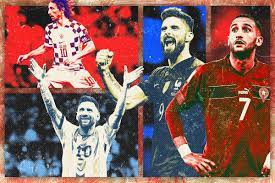 History, passion, the pure joy of winning and the heartbreak of defeat. The World Cup has not only lived up to expectations but has absolutely thrashed them. A unique World Cup in the closing stages of the year has been uniquely great in so many ways. The games have been pure class in entertainment just as the players in the game are at soccer. And this has resulted in our final four: Croatia, Argentina, France, and Morocco. Each of these teams has had an equally unique path to their spot in the semi finals. So how did these teams get here? What have been their best moments so far?
Croatia: When you think of Croatia, you should give them some alliteration and call them Clutch Croatia. Because they shine when the spotlight is the absolute brightest. They say pressure breaks pipes or creates diamonds, and Croatia is a team full of bright shining diamonds. They cooked with this same recipe in 2018 and did not change a thing.
4 penalty shootouts in World Cup knockout games in the last 4 years where the pressure absolutely skyrockets and Croatia has won every single one of them to make two straight semifinals at the least(they made it to the finals before losing to France). That is simply outrageous. They use their iconic checkerboard jerseys to outsmart their opponents one by one.
Who you ask?
A Japan team that was scolding hot after beating two European giants in Germany and Spain to make it to the knockout stage and send the former packing their bags before the knockout stage for the second straight tournament after winning the 2014 edition of the tournament. Croatia went down 1-0 but broke the Blue Lock to tie the match, and of course won the shootout because that's what they do, it's like clockwork.
But even more impressive was their quarterfinal match against Brazil. They went into extra time locked into an intense 0-0 draw, and it remained that way until Neymar Jr. scored to make the score 1-0. Did I mention Brazil is the best team in the world and was the consensus favorite to win the tournament? It seemed as if it was over until Croatia struck with a goal in the 117th minute to tie the match at 1-1. To penalties we go, and we know how that goes. Croatia hits all their shots and advances to the semifinals. Led by world class midfielder Luka Modric, they will face Argentina in the semifinals on Tuesday.
Argentina: They're the team that has the greatest player to ever kick a ball, arguably the greatest athlete to ever walk the face of this Earth, Lionel Messi. When you think of the beautiful game you think of Messi. "Encara Messi", a nightmare for the opposition's defense, facing Messi. It's his last ride and his last shot to finish his quest for complete glory in the sport. He's done everything else. So of course Argentina had to make it here to this stage of the tournament right?
There was never any doubt right? Well, not exactly. After being on the wrong end of one of if not the biggest upset in tournament history against Saudi Arabia, they had their backs pinned to the wall starting in game 2 against Mexico. Lose and you're out of the tournament. Some were manifesting the downfall of Argentina, but of course they would fail. The Argentina team that's ranked 3rd in the world showed up again, and put up 2-0 wins against both Mexico and Poland to not only advance but top their group.
Those who thought Messi would go away quietly were foolish and were riding on a weak wave of hate that even they knew would fail. Argentina then turned Australia upside down, or I guess right side up, in the round of 16 to advance. They were smoothly sailing to the semifinals against a strong Netherlands side up 2-0. However, the Dutch came screaming back and tied the game 2-2 to force extra time and eventually penalties. Here, Argentina would get the last laugh in a scrappy game by winning in penalties, including an easy Messi make to start them off strong. Next, they will have to navigate the checkerboard of Croatia correctly if they hope to give Messi a redemption shot from 2014 when Argentina would place 2nd behind Germany.
France: The incumbents to the coveted throne, the 2018 world champions, France. They looked the World Cup Curse straight in its eye and punched it in the face. 2010 Italy, 2014 Spain, and 2018 Germany all failed to make it out of the group stage after winning the previous World Cup 4 years prior. It was fate that it would happen to France too, especially after some key blows to top players that would keep them out of the tournament entirely. They have gone this entire tournament without star midfielder N'Golo Kante and the defending Ballon D'or winner Karim Benzema, and yet have not missed a beat in their dominance.
The star of this team, Kylian Mbappe, has established himself as one of the greatest World Cup players of all time. Oh yeah, did I mention that he is 23 years old and played a key role in France's championship run at 19 years old. He's winning a World Cup for his country at the same age most of us will still feel like kids and not know what the future holds for us. And he's making a strong case for a second title before he even comes close to his prime with 5 goals this tournament, the leader for the golden boot.
France has looked dominant this tournament, a result that shouldn't have come as a surprise to anyone even those who blindly believed in the silly World Cup Curse that France has not only broken but completely shattered. Their run for the title continues in a semifinal matchup against Morocco on Wednesday, a matchup of PSG stars Mbappe vs Hakimi.
Morocco: And the last semifinals team…Morocco?! Surely I'm reading this wrong. I'm not? Yes, Morocco has really made the semifinals of the World Cup. A shock to end all shocks, an unbelievable twist in the story of the world's most prominent sporting tournament. We are witnessing history, it is truly insane that they have reached this stage.
They are the first African nation to ever reach the semifinals of the World Cup. And it's not like they have stumbled upon this position on luck. They have 100% earned their place here by fighting through some of the world's top teams. Some notable opponents they have played so far are Croatia and Belgium in the group stages and Spain and Portugal in the knockout stages. All opponents that people before would say should beat Morocco handily have all faltered against the immaculate play of the Northern Africans. None of those powerhouses were even able to score a goal against the Moroccans.
They have created magic with their twin magician superstars Achraf Hakimi and Hakim Ziyech. "Bono blocks" has been immaculate in goal, with Morocco not allowing a single goal by the opposition this entire tournament, the only goal coming via an own goal in the match against Canada. This Morocco team has been nothing short of extraordinarily special, and they'll look to continue their magical tournament for themselves and the entirety of the African and Arab worlds on Wednesday in a clash against the reigning champions in the French.
A team that has clutch beyond belief, the goat's last chance at eternal glory, a young kid looking to solidify himself as a legend in the game before 25, and a team that has shocked the world and carries the weight of an entire continent on their back. Modric vs Messi, the champions of the world vs the champions of our hearts. Croatia vs Argentina, France vs Morocco. Buckle up everyone, this is gonna be good.