Georgia Runoff Election 2022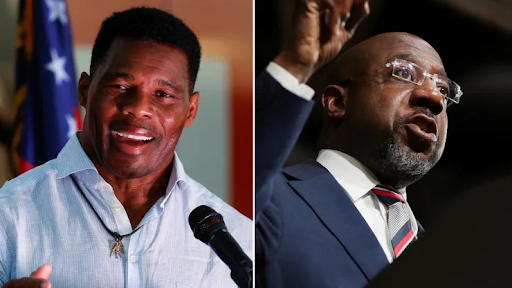 The midterm elections in November concluded with Democrats finalizing control of the Senate. However, after Georgia announced their runoff election to be held, questions were raised about the total completion of the Senate. 
When Georgia held their midterm no candidate won the majority. Incumbent Democratic U.S. Senator Raphael Warnock ended with 49.4% and Republican Herschel Walker ended with 48.5%. 
Many states have a winner-takes-all or plurality of the vote system meaning a candidate needs to gain the most votes to win a position. However, Georgia, along with Louisiana, have an absolute majority system. This means a candidate must gain over 50% of the vote in order to win. This system is used for both primary and general elections. If none of the candidates are able to achieve the majority vote, the top two candidates will face off in a runoff election. Georgia's was held on December 6th, 2022. 
According to CBS, the history of Georgia's runoff election system dates back to the Jim-Crow era and was approved in the 1960's by the Georgia legislature. Legislation was introduced in the 80's to repeal the majority vote system and adopt a plurality system but it was not successful. Later in 1990, the Justice Department filed a lawsuit challenging the voting requirements. This was the first time statewide challenged a majority-vote system brought by the U.S. under the Voting RIghts Act.
In the 2021 runoff, Warnock and Senator Ossoff became the first Democrats elected to the Senate in Georgia since 2000. This gave the Senate their majority. Ossoff is on his six year term that lasts until 2026 but Warnock won a special election to serve the remaining two years of Senator Johnny Isakson's term, who resigned. Therefore, he was running for his first full term. In the Senate both Democrats and Republicans held 50 seats and Vice President Harris was the tie-breaker. WIth that, President Biden was able to pass legislation with support of Democrats. In the 2022 midterm elections, Democrats were determined to keep control and the conclusion of Georgia's race would either widen or maintain the current seating in the Senate. A Democratic-controlled Senate was crucial for President Biden to advance his agenda. 
Herschel Walker is a former football player, businessman, and Republican candidate. He had backing from former President Donald Trump in this election. For Republicans, the seat in Georgia was a crucial target. Their goal was to take back control of the U.S. Senate. 
In the end, Warnock secured victory in the runoff and began his first full six year term with 51.4% of the votes over Walkers 48.6%. Regardless of who won this election, Democrats were already finalizing control of the Senate, but now they have more control of the chamber with 51 to 49. There was also a record breaking number of early voters turned out in the election. Over 1.8 million people voted early. According to the AP Associated Press, Warnock told supporters, "After a hard-fought campaign –or, should I say, campaigns – it is my honor to utter the four most powerful words ever spoken in a democracy. The people have spoken." Walker seemed to be unable to overcome damaging allegations and questions about his past actions in his personal life. "I don't want any of you to stop believing in America. I want you to believe in America and continue to believe in the Constitution and believe in elected officials and most of all, continue to pray for them." Walker said to supporters after the winner was announced. "There's no excuses in life, and I'm not going to make any excuses now because we put up one heck of a fight."