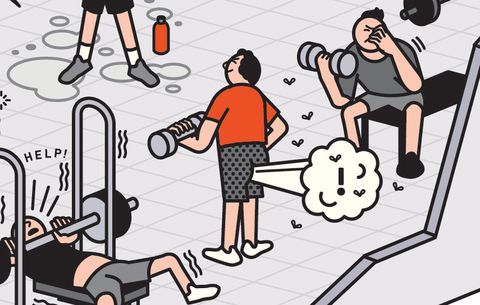 Dating back to over 3000 years ago in ancient Persia, large vast rooms were constructed filled with a gallery of equipment all built with the intent to be thrashed and thrown around. The gymnasium was created ("gym" for short). Since that time, there have been a few minor adjustments to the ins and outs of gyms as well as the culture embedded in it. Cultivated originally with the purpose to create a healthy lifestyle, the gym has now been transformed into both a scouting site for perverts and, more importantly, a widespread culture filled with norms that will be discussed along with the modern issues and positives of gym culture nowadays. 
If you're wanting to get into a gym, it could be an intimidating task to take on. Just like any intimidating task, it shouldn't be taken on alone; bringing a friend or family member can help reduce the anxiety and fear of being looked at or judged while in the gym. Once you're ready to go, you should assess what you want out of this pursuit of physical training. If it's for a specific sport, train the required muscle groups and do the necessary research to aid you in that. If you're just trying to lose or gain weight, then heavy weight training, complemented with forms of intense cardio, can do both of those things, with the right diet, of course. 
You are now ready to pump some heavy iron for the first time. But you walk in and are shocked at the sight you are presented with. There are a bunch of loud men unnecessarily grunting their hearts out with every rep, high schoolers grouping around the bench that you planned on starting with and newbies curling dumbbells half their weight, swinging their whole body back and forth right in front of the dumbbell rack you had your eyes set on. You get a huge ick from this gym and end up going home and leaving a two star google review. In order to save the gym industry and the culture backed by it, here are some gym stereotypes to avoid and etiquette that should be followed to be as good as a human a gym rat can be.
Literally the biggest gym stereotype you'll find is the grunter. I myself find myself susceptible to this at times but typically the grunter needlessly makes excessive noises and grunting when performing lifts. Obviously grunts here and there are fine but the grunter matches each rep with a grunt for consecutive sets that have led certain gyms such as Planet Fitness gyms to create a "Lunk Alarm", i.e. an alarm sounded in order to regulate disrespectful behavior and to push grunters away. All in all, it's okay to grunt occasionally but excessively grunting can be irritating (especially if you're not even lifting heavy weights).
A more fitting stereotype for most of you reading would be the uneducated, yet surprisingly cocky, high school teens. Typically guys but can be girls as well, these groups consist of overly social and crowded groups of teens that hog a piece of equipment for an absurd amount of time to where it's obnoxious. They're usually unable to accept any criticism or advice as they have definitely been lifting for decades and know far more than anyone else there. Things to take away from these guys are that nobody is too good for advice or criticism, and that there is always more to learn.
A lesser-known ick in the gym are the people who use the dumbbells in front of their respective racks. This is the more unspoken etiquette, as it's not directly disrespectful, but it takes up space for people who need to grab dumbbells. All in all, not much is to be said, just don't take up space in front of free weight racks.
Acknowledging all of these stereotypes and their issues is the first step into making the gym a better place. Most importantly to take away, however, is that all of these people, despite their lack of etiquette, are still people trying to be in a place to improve themselves. That alone deserves praise and encouragement, so avoid all the aforementioned stereotypes, and promote being an encouraging and uplifting lifter to fellow lifters.